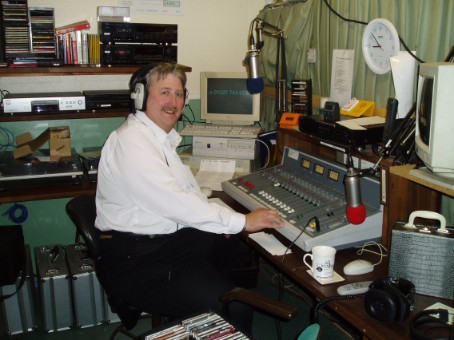 Presenting programme 1000. Photo courtesy of Herne Bay Gazette

The early years
Dismantled (vandalised) Amplion wireless radio horn at age 2.




Presented gramophone records to family and friends at age 3.




Wired mains plug at age 4-5.




Experimented with Merryfield "Gram-deck" tape recording apparatus (mounted on record player) at age 6-7, and became a nuisance. Wore out record player, so turned to Mum's prized radio-gram.




Wired most of house for sound at age 8 and became more of a nuisance.




Started broadcasting on cable to next-door neighbour at age 9.




Acquired portable tape recorder (2 ½ " reels) and became even more of a nuisance.



Getting on
Joined Radio Cabin in 1980, mentored by the wonderful late Edmund Foley.




Presented "Reminiscing", the oldies slot in Graham Jenkins' Lunchtime programme.


Presented "The Talking Machine" for around a year, featuring exclusively phonograph cylinder recordings.


"Reminiscing" was reborn as an hour of gramophone records under the title "A Sentimental Journey", later renamed "The Light Programme".


Presenter of "The "S" Factor", playing "old ones, new ones, loved ones, neglected ones".

Interests
Radio, good food, good beer, good company, horology (particularly Bulova Accutron tuning-fork watches)
Favourite Radio Presenter/Programme: -
Bob Holness: - "Late Night Extra" (BBC Light, 1 & 2) and "Anything Goes" (BBC World)
Favourite Music: -
Anything by anyone, as long as it's good
Favourite Record Shops: -
Dialogues Musiques, 37 Rue Pasteur, Brest, France.




Second Spin, 14 Sackville Road, Bexhill on Sea, TN39 3JL.




Smugglers Records, 9 King Street, Deal, Kent, CT14 6HX.